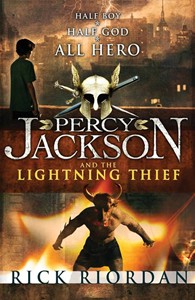 Percy Jackson and the Lightning Thief
by Rick Riordan
The escapades of the Greek gods and heroes get a fresh spin in the first book in the Percy Jackson and the Olympians series, about a contemporary 12-year-old New Yorker who learns he's a demigod.
more synopsis … also provides links to:
Percy Jackson and the Lightning Thief is scheduled to release on February 12, 2010 in the United States.
Read an extract
Hear the first part of the book, as read by the author.
Video interview with Rick in North Carolina

Video interview with Rick in Cincinnati
For Teachers …
The Lightning Thief: A Teacher's Guide.
A complete Lightning Thief unit
The Lightning Thief: A Reader's Guide.

Rationale. A curriculum rationale, based on NCTE models, for those teachers considering Percy Jackson for classroom use.

Literature Circle Questions

Biographical Information on Rick Riordan.

A Readers Theater from Lightning Thief.

Percy Party event guide.

Project ideas.